The safe hands in storage
The Leading Experts in Safety Storage Cabinets
Who are Asecos?
asecos are the worldwide leading manufacturer of safety storage cabinets for hazardous materials according to the European standard EN 14470 Part 1 and Part 2.
Innovation as standard
asecos develop products that offer the highest degree of protection and comfort in daily work. They are driven by their conviction to continually create innovative and intelligent product solutions and have proven themselves as inventors of trend-setting solutions based on this conviction. Right from the start asecos has set a new level of safety by introducing Type 90 technology for fire-resistant safety storage cabinets.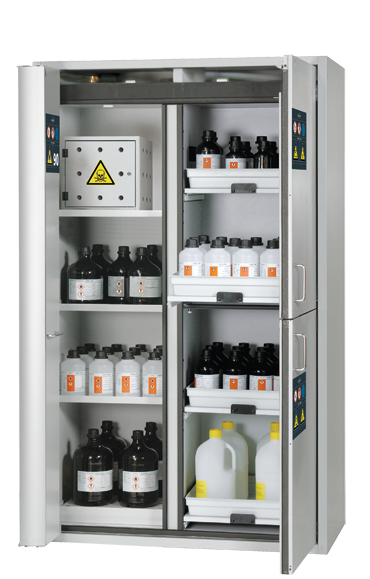 Click to Watch the ASECOS Video
Fire performance test of 3 most common cabinet types
Safety features of type 90 safety storage cabinets
TBI SCIENTIFIC are specialist ASECOS suppliers IN Ireland
INNOVATIVE SOLUTIONS FOR THE PROFESSIONAL STORAGE AND HANDLING OF HAZARDOUS MATERIALS
ASECOS SAFETY STORAGE CABINETS BURN IN THE CAUSE OF SAFETY
Every single model type of asecos fire-resistant safety storage cabinets must be successfully tested in a fire chamber by an independent material testing laboratory. It is thus tested according to the stringent requirements of the European standard EN 14470 Part 1 or 2 to demonstrate its fire protection rating.
Safety storage cabinets from asecos are tested according to the requirements of those safety regulations in force. By successfully passing GS testing, an independent organization documents and certifies that asecos products are tough enough and of the highest quality.
Production of asecos safety storage cabinets are subject to voluntary and permanent external monitoring by an accredited and independent materials testing institute. Without any forewarning, safety storage cabinets from the current production process are taken and subjected to retesting in the fire chamber.
PROVEN SAFETY YOU CAN RELY ON