Here at TBI Scientific we are specialist suppliers of Trespa. Trespa are one of the worlds largest producers of Phenolic panels.
For a compact laminate; Trespa is a leader not only in its functionality but Trespa's focus on product development combining quality manufacturing technologies with intelligent solutions for architectural applications.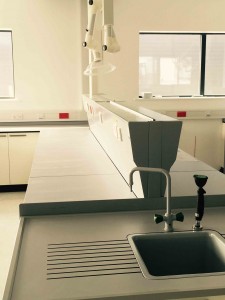 Trespa is an ideal choice for the laboratory environment due to its non porous properties, low maintenance care and high resistance to aggressive chemicals. It's melamine surface delivers excellent scratch resistance and overall durability, retaining its appearance for a long time.
Even with its flexible structure, Trespa's porous compact laminate has a high resistance to chemicals and possesses anti bacterial properties. This in turn prevents a build of dirt, grime and bacteria on all Trespa surfaces. Leading the way for the optimal work surface environment – revolutionizing the HPL Compact market to what it is today.
Applications of Trespa:
Lab work surfaces
Wall and Reagent Shelving
Fume Hood and Worktop Cladding
Peg Boards
Cubicle and Modular Designs
Architectural Features
Properties of Trespa HPL Panel:
Can be machined similar to high quality hardwood
Can be easily retrofitted in the field for new equipment
Panels available in several thicknesses, colours and sizes
Longer panels/fewer seams in the work surface
Anti-static properties
Today's laboratory and functional environments demand compliance with rigorous codes and standards. Therefore, selecting the right material is of crucial importance. Trespa® toplab® offers three product lines that meet the highest requirements while offering an attractive and timeless palette of high-quality décors.
Trespa Toplab Plus
Trespa Toplab Vertical
Trespa Toplab Base
Trespa® Toplab®PLUS panels provide an ideal choice in environments where hygiene, avoidance of contamination, sustainability, ergonomics and safety are of importance. It's surface is easy to clean and shows a high resistance to a large number of aggressive chemicals.
Toplab®VERTICAL comprises chemically resistant and antibacterial surfaces for applications in functional and laboratory environments, such as cabinetry, special covering for modular elements, and lining of fume hoods and splash backs.
Trespa® Toplab®BASE is highly resistant to wear, making it ideal for worktops and cabinetry applications where severe use and frequent cleaning are expected. Its surface is not adversely affected by moisture and the panel remains impervious to mould or rot.
The variations of Trespa along with its extensive colour range delivers innovative aesthetically pleasing and high performance solutions for a wide range of architectural needs.
Contact us here in the TBI Scientific office for your free brochure.